FDA/ IMS (Interstate Milk Shippers) Certification
Symetal's Foil Converting Plant (Mandra, Attica) has been audited by a sanitation consulting firm (recognized by FDA to conduct IMS certification audits throughout the world) in November 2019 and was found to comply with the FDA Standards for Single-Service Containers and Closures for Milk and Milk Products.
The use of these FDA Standards ensures the production of sanitary containers and closures for milk and milk products and shall apply to all relevant supply chain.
The inspection has been performed based on guidelines from the following:
Standards for the Fabrication of Single-Service Containers and Closures for Milk and Milk Products (2017 Revision) PMO App. J

Good Manufacturing Practices (21 CFR 110)

BRC/IoP Global Standard for Food Packaging Materials

Safe Quality Food Institute SQF 2000 Guidance for Food Packing Materials and Distribution

Code of Federal Regulations (21 CFR 174-178)
It is worth mentioning that in order to achieve and maintain an IMS certification a score of at least 80% is required.
Symetal has achieved a score of 99% for all its product types (IMS listing: FULL) and has been listed in the
approved list
of manufacturers of Single Service Containers and Closures of milk and milk products, located outside the US.
The inspection of the manufacturing facility will be conducted on an annual basis by an FDA authorized auditor.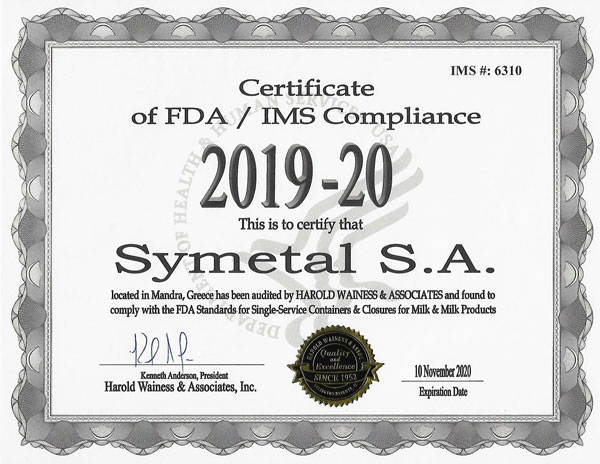 The Food and Drug Administration (FDA) is an agency within the U.S. Department of Health and Human Services. It consists of the Office of the Commissioner and four directorates overseeing the core functions of the agency: Medical Products and Tobacco, Foods and Veterinary Medicine, Global Regulatory Operations and Policy, and Operations. For more information, please visit the website:
www.fda.gov
.