FSSC 22000 Certificate for Symetal's Foil Converting Plant
Symetal is pleased to announce that it has recently achieved certification for FSSC 22000 (Food Safety System Certification 22000 - Version 5) for its Foil Converting Plant (Mandra, Attica). The plant has been recently assessed and determined to comply with the requirements of the aforementioned standard by the licensed Certification Body, Bureau Veritas Hellas S.A.
The FSSC 22000 Certification Scheme is based on the publicly available standards/ technical specifications:
ISO TS 22002-4:2013 Prerequisite programmes on food safety (Part 4: Food packaging manufacturing)

FSSC 22000 Additional Requirements V5 (Management of Services, Product Labelling, Food Defense, Food Fraud etc.)
The Scheme provides a voluntary certification model that can be applied across the entire food supply chain and offers a "FSSC 22000 Register of certified organizations" which is publicly accessible.
The FSSC 22000 Certification Scheme has been benchmarked and recognized by the Global Food Safety Initiative (GFSI), as of February 2010, confirming global food industry recognition and acceptance. Other popular GFSI-recognized schemes are BRC Global Standard, IFS, SQF.
As a responsible manufacturer of a wide range of aluminium foil products, Symetal wants to ensure that it continuously meets international food industry requirements. In this context, FSSC 22000 certification (Category I: Production of food packaging and packaging materials) assures that the Company's Foil Converting Plant comprehensively provides flexible packaging materials safe for food industry.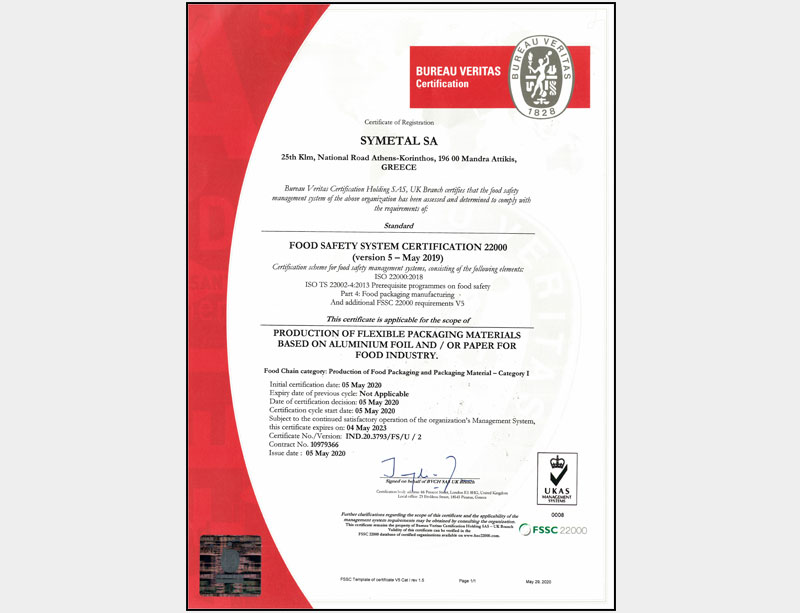 FSSC 22000 is a standard approved by the GFSI (Global Food Safety Initiative). It distinguishes from other food safety certification Schemes because of its focus on certifying the Food Safety Management System of an organization. For more information, please visit the websites:
www.fssc22000.com
,
www.mygfsi.com
.