Sustainable Development Goals labels in Symetal's facilities
At Symetal, we recognise the importance of every small action that contributes to the achievement of the UN Sustainable Development Goals and are committed to operating towards this direction. At the same time, sustainable development is directly linked to our responsible environmental operation.
In this context, we have created special SDGs labels, which have been placed in our facilities next to printers, air condition control pads, taps, etc. The labels' messages are specifically related to Goal 6: "Clean Water and Sanitation" and Goal 12: "Responsible Consumption and Production".
The main purpose is to strengthen the ecological consciousness of our employees and to change some small daily habits that can lead to the reduction of our environmental footprint.
Let's all choose to be better for our planet!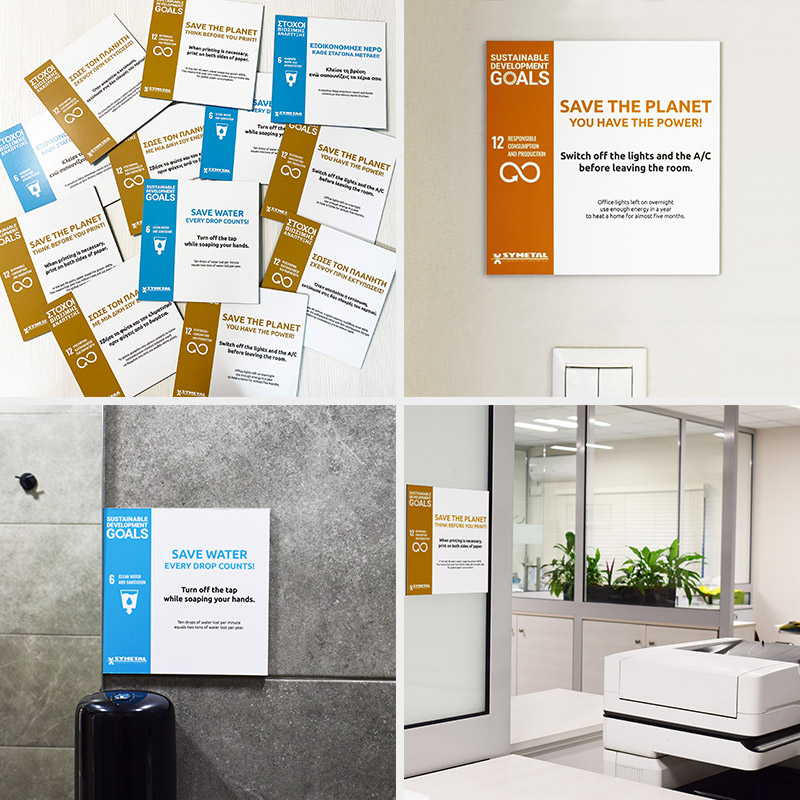 About the UN Sustainable Development Goals:
The 2030 Agenda for Sustainable Development, adopted by all United Nations Member States in 2015, provides a shared blueprint for peace and prosperity for people and the planet, now and into the future. At its heart are the 17 Sustainable Development Goals (SDGs), which are an urgent call for action by all countries - developed and developing - in a global partnership. For more information, please visit the website:
https://sdgs.un.org
.