Symetal receives GOLD Award at the prestigious ceremony "Manufacturing Excellence Awards 2021"
On October 5th, 2021, Symetal was honored with a GOLD Award during the prestigious Manufacturing Excellence Awards, held annually in Greece. The ceremony was attended by 240 senior executives and CEOs from the award-winning companies, organisations, bodies and industrial associations.
Specifically, Symetal received the GOLD Award in the "Manufacturing Activity with Extroversion" category, certifying the Company's export orientation, since 87% of its sales are carried out in around 70 countries across the globe. Mr. Christos Michalopoulos, Product Sales Manager (Foil Rolling Plant - Oinofyta, Viotia), accepted the award on behalf of the Company.
The award presented to Symetal in a highly contested race is an acknowledgment of the Company's outstanding dedication and continuous work towards excellence, and a confirmation of its leading position in aluminium foil products.
With more than 40 years of experience in aluminium foil rolling and processing, Symetal stays dedicated to its commitment to manufacturing and delivering innovative products and solutions around the world, following a business model that is based on sustainability and green economy principles.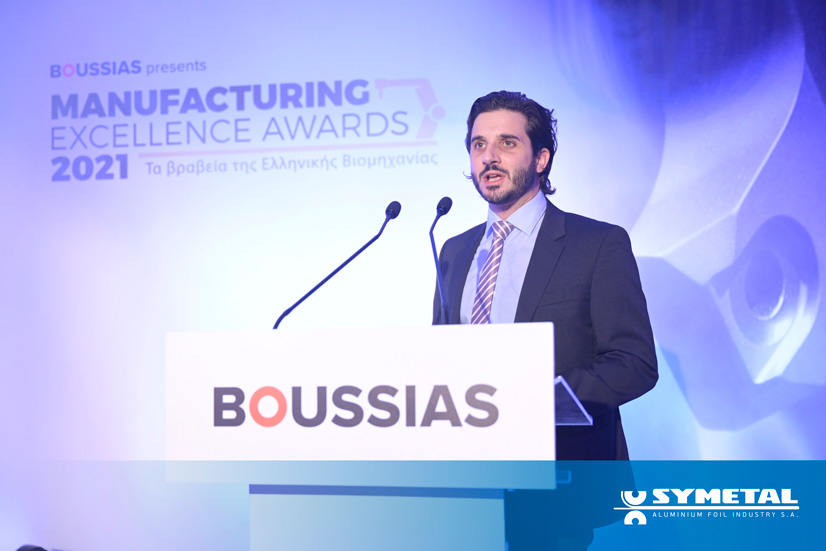 About Manufacturing Excellence Awards:
The Manufacturing Excellence Awards reward the excellence of businesses in the wider industrial sector of Greece as well as of businesses which offer industrial solutions. For more information, please visit the website:
www.manufacturingawards.gr
.