Symetal recognised as a True Leader for 2018
Symetal was presented with an important recognition as part of the True Leaders evaluation and award process, an initiative of
ICAP group of companies
, the biggest B2B Services Group. The ninth "True Leaders" awards event took place on 19 December, 2019 at Divani Caravel Hotel, with the attendance of 350 high-level executives representing businesses that operate in the Greek market.
Specifically, Symetal was named one of Greece's 82 "True Leaders 2018" for meeting four measurable and objective criteria namely Profitability, Increase of Employees, Leading Position in the Industry and high ICAP Credit Score. From a total of 31,000 businesses evaluated, only 82 companies and groups have managed to stand out.
Symetal's distinction as a "True Leader" means that for 2018 Symetal:
Is included in the 500 most profitable companies for 2018

It is among the 500 companies with the largest personnel number, achieving increase in the number of employees compared to 2017

It holds leading position in its Industry based on its Turnover

It has a high ICAP Credit Score (Evaluation of Creditworthiness)
The award was received by Mr. Fedon Paraskevopoulos, Symetal's Quality Assurance & Sustainability Manager (Foil Rolling Plant - Oinofyta, Viotia).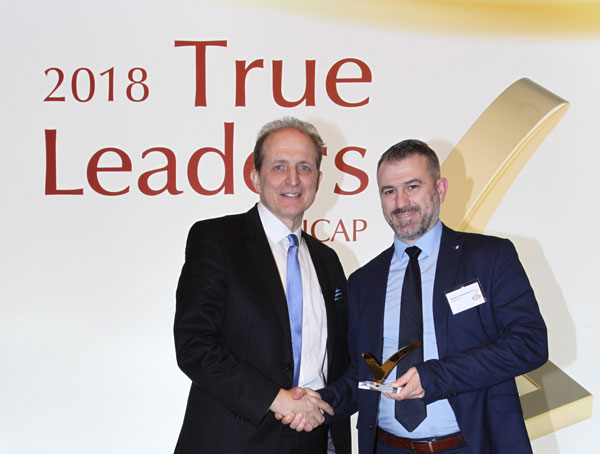 About Symetal
Symetal produces aluminium foil products, mainly used in packaging solutions for the food, pharmaceutical and tobacco industries. The Company is highly export-oriented, with 95% of sales realized in over 60 countries in Europe, US, Middle East, Africa and Far East. Symetal is an aluminium segment subsidiary of ElvalHalcor S.A., a leading global industrial producer of aluminium and copper.
About ICAP
ICAP is the only company in Greece recognised by the Greek Capital Market Commission and the European Securities and Markets Authority - ESMA as a Credit Rating Agency (CRA). The leading institution True Leaders has been organised under the auspices of the Ministry of Economy and Development and the Hellenic Federation of Enterprises (SEV). For more information, please visit the website:
www.icap.gr
.